Apartment accommodation in Skála pension in Čenkovice – Orlické (Eagle) mountains
Location of the facility
Our facility is situated in the center of Čenkovice ski area in Orlické mountains. The facility is conveniently located opposite to public parking and is just 20 m from the kids ski slope and 80 m from two 1,5 km long ski lifts. There are 3 restaurants within 150 m of the facility.
Guests who love to ski or snowboard will appreciate being able to finish skiing right at the front door while summer guests will want to take advantage of the nearby mini golf and tennis courts (less than 100 m away) and village lake.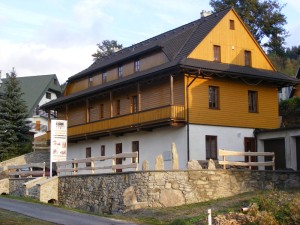 Our apartments
Our facility is focused on clients/guests who want to enjoy privacy (families with children or closed groups) and comfort in superior accommodation.
Accommodation
The facility includes 4 larger apartments (for 6+2 clients/guests) and a smaller apartment on the ground floor (for up to 2+2 guests).
Apartment Facilities
Each apartment has 2 separate bedrooms (2 and 4 beds), a spacious living room with integral kitchen, a bathroom with shower and WC and a second separate WC. The kitchen is fully equipped with fridge, cooker/oven, tea pot, microwave oven, basic dishes and utensils, a large table and corner bench with chairs. An open wood burning fireplace makes an imaginary dividing line between the living room and the dining room. The stove heats not only the living room/kitchen area but also both bedrooms and bathroom with the help of a ventilation system. There is a specious rack above the fireplace where wet clothes may be conveniently hung to dry. Every room also has electric radiators for additional comfort. In the living room there is a TV set and a large sofa which converts easily into a double bed. The two apartments on the 1st floor include their own balcony and entry from the large terraced area behind the facility.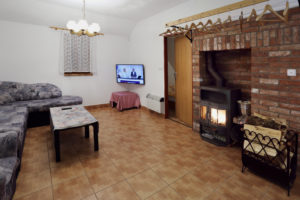 Small apartment
A small family apartment on the ground floor comprises of 1 room with a folding sofa bed, a bunk bed, a fireplace stove, a TV table with a TV, a wardrobe, two chests of drawers, cupboard space and a table and chairs. This apartment also has its own bathroom with shower and separate WC.
Common Areas
Our facility has its own room where ski can be conveniently and securely kept, a lockable space for bicycles and parking place. There is a pendant fireplace and outdoor grill on the terrace behind the facility.
Rezervation
Overview of available reserves, which can be ordered.
Rezerve date